The Story Board
Chapter 2: Amit Mondal
---
MORE THAN ACCOUNTED FOR
There is a certain stereotypical colouration to what the average person imagines when they think of an accountant. The word may evoke the image of a man in a drab, grey suit, generally with glasses, staring slack-jawed at a spreadsheet while prodding absently at a calculator, or else a faintly avian figure made of straight lines and pinstripes presenting page after page of complex charts and equations to a glazed-eyed homeowner. In short, you picture someone boring.
Although this trope's popularity in fiction (and media in general) makes it difficult to avoid, there is one sure-fire way to shatter all of your accountant-based misconceptions: meeting Amit Mondal.
Amit works for Perdaman Corporate Services as Assistant Manager of Accounts, and he is consistently one of the most stylish people in the office. Upon my first time meeting this particular accountant, any stray thoughts of pale pinstripes or circular spectacles were instantly banished by a subtly spiked quiff, dark burgundy shirt and easy smile that showed the music-lover and cricket player behind the corporate professional.
My own experiences with Perdaman have been vastly improved by Amit's presence. Stepping into the company as a total newcomer to the corporate world, one of the most daunting aspects of my new role was the ubiquity of complex and unfamiliar finances. However, from day one, Amit has always been happy to walk me through each new form and spreadsheet I have encountered, proactively making sure I know what I'm doing and why I'm doing it. This is not just Amit's way of being welcoming to a newcomer; his patience and willingness to help extend to everyone in the office, from giving the new guy a few tips to following up with business heads to make sure they have all the information they need for budgets and approvals. Amit embodies Perdaman's commitment to creating and empowering leaders, and he does so while also managing to be a genuine, fun person.
Amit's story may be about growth and change, but it is also about maintaining the core of who you are as you adapt to a new world of responsibilities. I had the pleasure of getting to know more about that core identity when I sat down with Amit to hear his story, and it is a pleasure and a privilege to share that story with you.
EARLY LIFE & EDUCATION
Amit Mondal was born in Kolkata, in India's West Bengal state. Despite being an only child, Amit acquired an extended family of very close friends who all felt like brothers and sisters, so he always felt surrounded and supported by family, even when he was far from home. Family was also the root of Amit's love of music, with his mother passing on a singer's natural appreciation of melodies and harmonies. Although he did not become a singer or musician himself, music remains an important part of Amit's life.
In his early schooling experience, Amit discovered a love of science and calculation. Unlike in subjects like history and geography where he was just expected to commit hundreds of dates and facts to memory, science allowed Amit to actively engage with and apply the things he was learning. He discovered that a formula or equation would stick in his mind much more quickly and easily than the dates of wars and discoveries, being a tool that he could regularly use to better understand the world around him rather than a simple piece of obscure information left to gather dust in his memory. This analytical, scientific brain would serve him well in years to come.
Commerce and accounting were not originally much of a passion for Amit. Like so many of us, he finished his secondary education without a clear idea of what he wanted to do next, so when a friend came to him with a suggestion, Amit stepped up with an open mind and a sense of humour.
'One of my friends came to me, he's a chartered accountant, and he said, "Amit, you should be a chartered accountant", and I thought, that looks really prestigious and nice, and it's difficult to pronounce so it must be a good profession. So that got me motivated to do it.'
After this initial suggestion, Amit went into the Narula Institute of Technology (NiT) to study a Bachelor of Business Administration. By this time, one of the biggest influences on Amit's life had taken root in his identity and style: the 1990s. 90s music, 90s films, 90s fashion, Amit developed a passion for everything about the culture and aesthetic of this decade. The impacts of these new experiences and passions ranged from changing how he styled his hair to leading him to Australia.
'I'm very much widely addicted to Indian Hindi movies from the 90's, so my culture, my attire, my style, fashion, food and everything, is so I could have a reflection of 90's movies and stuff. I was crazy about it. I have seen a lot of beautiful places that are outside of India, beautiful places that I wanted to visit the most, so I came to know about Britain, America, Canada, and eventually Australia as well. And that has motivated me a lot, it's what made me want to go abroad for study and get to visit those beautiful places.'
After graduating from NiT, Amit was given a choice: pursue further study and acquire his full commerce degree, or start working as an accountant. Two of his teachers, Vivek Sir (commerce) and Answar Da (English)—both long-time mentors and major influences on Amit's life—helped him determine what he was most motivated to do. Several of Amit's friends were already studying or working in Australia, and Amit knew how beautiful the country was from some of his favourite movies, so in 2008 he decided to go abroad to study and acquire his commerce degree.
ADAPTING TO A NEW WORLD
Amit moved to Sydney, beginning his degree with CQ University. Although he was studying commerce, Amit's first job in Australia was far from the world of accounting. Amit worked evenings at a bar in Sydney, beginning as a dishwasher and eventually working his way up to being a bartender. The atmosphere of this workplace, surrounded by music and people having fun, was exactly the kind of environment young Amit thrived in. There was a casual freedom to the work; you had to work hard and make sure everything was being done properly, but you were also singing and dancing with your co-workers and being a part of everyone else's fun. It was an amazing experience, Amit told me, to work with people who you got on with like childhood friends, and he loved every minute of it.
After a few years of working and studying, Amit graduated with a Master of Professional Accounting qualification and transitioned into the world of full-time accountancy. He moved from Sydney to Perth and spent a year as a general accountant, then transferred to a large firm where he worked as a tax accountant for four years. While the workplace itself was not necessarily a bad place, after leaving the excitement and casual fun of the bar for the rigid professionalism of being a tax accountant, it was difficult for Amit to adjust to the expectations of his new role.

'I had to adapt to the environment, be more professional. I learned that you cannot be so casual as you could when you work in a bar environment; your attire, what you say to people, you have to be careful in each step that you are going to take, whether you are sending an email, communication, or if you are approaching a client, it's a different environment—you're not dancing on the floors, you're just sitting there, but also at the same time, unsupervised, you have to manage yourself. Managing staff without supervision also came into play.
It became increasingly difficult for Amit to stay motivated in this new role. He described this as a time of frustration and confusion, a period of his life when he was wondering if he had chosen the wrong path. He had worked so hard for so many years to enter this world and become an accountant, but the more time he spent at his current job, the more frustrated and weary he became. The excitement that had driven him to move to Australia, to pursue his degree, to become the person he thought he should be, was slowly draining away.
In times like this, Amit turns to music. There will always be challenges that come up in your life, he told me, but music is something that has always helped him stay motivated and in control. Whether he was sad, frustrated or happy, Amit would refer to music. Although he had made many new friends in Perth, all of his close friends and family were either in Sydney or all the way back in India, so music was a big part of helping him through this difficult, uncertain time. After his four years as a tax accountant, Amit decided to quit his job. Accounting, he decided, was simply not for him.
Amit found himself applying for all sorts of jobs, anything he could find – anything, that is, apart from accounting. He applied for government jobs and admin positions, searching for something that would help him recapture his lost motivation. That was when Amit discovered Perdaman.
FINDING CONFIDENCE
In 2017, Perdaman was advertising an opening for a projects & accounts administrator. The company had been growing steadily over the last decade, and between the Chairman's reputation and the positive things Amit was hearing from his friends, he decided he would make an exception and apply for one last accounting job. Not expecting any great deal of success, Amit headed into Perdaman's head office for a job interview.
'I was looking for any other job apart from accounting, you know, so I came here just for the interview, and I thought, like, it would be for about 10 minutes or so. I came into the office, and it was such a beautiful scene. I thought, I'll just get some pictures, post them on social media, I'll sit for the interview, and I'll leave. I knew I was not going to be selected, and I didn't think I was really interested in the job either.'
This outlook was suddenly shaken, however, when Amit came face-to-face with the Chairman, who was interviewing him personally. Amit had reservations about stepping back into accounting and the corporate world, but the Chairman saw through his denial. There was something about Perdaman that rekindled the spark of excitement that had been missing from Amit's work for so long. It was still challenging for Amit to accept that he might be working as an accountant again, but when the Chairman selected him, that spark of excitement allowed Amit to come into the job with an open, optimistic mindset.
His recent struggles had made a significant dent in Amit's confidence, and when he started at Perdaman, he didn't know if he would be able to stay afloat in such a prestigious and professional position. However, after years of struggling to work through frustration and a lack of motivation, Amit suddenly found himself in a community that more closely resembled the spirit of his old job at the bar in Sydney than anything he had experienced as an accountant. He was able to find enjoyment once again in using the tools he had been given to break down and understand the tasks in front of him.
There were still challenges, but the leadership team at Perdaman helped Amit find confidence and excitement in his new position. It was transformative, Amit said, to go back into the kind of position where he had had those negative experiences, but this time to actually love his job. When I asked Amit what his proudest moment was at Perdaman, he told me that there had yet to be a single moment when he wasn't proud.
'I always feel proud. I always carry that feeling with me, because since I finished my graduation, I've been working to be an accountant, but I left that job. I never wanted to be an accountant again, the last thing I wanted to be was an accountant… but working here at Perdaman just gives me so much energy. Now you're looking at me, and I'm a different person. I'm so positive, straightforward and outspoken, and I love my job. I get a great sense of achievement through my different work experiences here at Perdaman; I get to develop my skills, my communication, really develop as an individual. And the company values me as an employee, so I really feel proud working here. I have since the start.'
Joining Perdaman was just the beginning of this new chapter in Amit's life, and it allowed him to take on challenges and goals that he would not have even considered by himself. Amit was promoted in July to Assistant Manager of Accounts, and he is currently in his final year of studying for his CPA qualification. The Chairman and Amit's manager, Perdaman General Manager of Finance Him Rekhi, have continued to push Amit and help fuel his motivation as he takes on these new responsibilities and strives to further develop his skills.
THE NEW AMIT
A separate challenge that completely changed Amit's approach to every aspect of his life was the arrival of his baby daughter. Working at Perdaman had helped Amit grow into a calmer, more responsible professional, but suddenly there was an entirely new dimension to every decision he made. Family is very important to Amit, and he works hard to make as many memories with his daughter as he can, giving her his time and capturing their moments together so that she will be able to keep these memories close as she grows up.
Balancing a full-time corporate job and caring for a new baby is a gargantuan task for any parent, and Amit offered me a wry smile as he commented that motivation and focus can be somewhat difficult to maintain when you've been woken up 4-5 times during the night by a crying newborn. Sleep deprivation made everything more challenging, but Amit also had a new motivation—something he could work tirelessly for without losing confidence in his goal. Becoming a father allowed him to discover new strengths that he had not thought himself capable of.
'I tend to think or judge things more logically. On each and every decision I used to make, it was based on the emotional aspect; I have made a lot of decisions emotionally which turned out to be pretty disastrous. Now I tend to think more before I do anything. Once you become a father, you gradually generate a lot of strength in yourself; you need patience enough to kind of absorb pain and things, so now I can see myself as a different person.'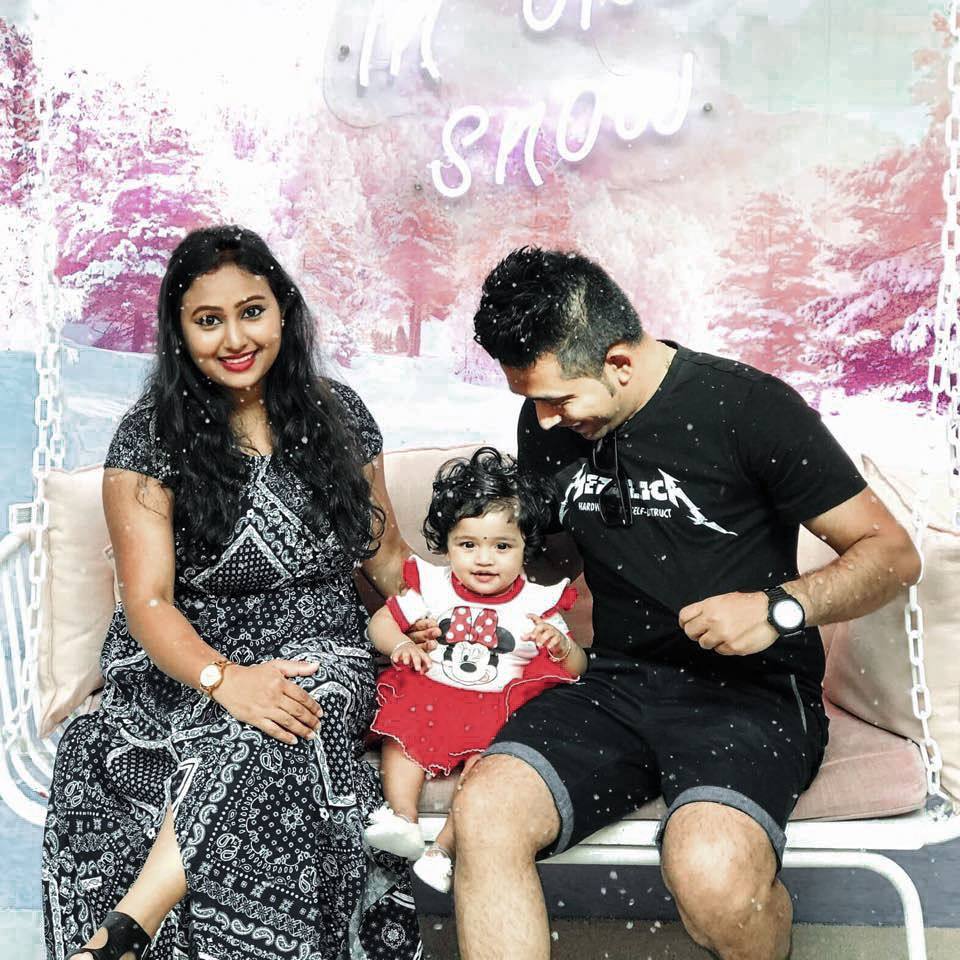 Even through the sleepless nights and challenging tasks, Amit found himself enjoying his work. Unlike his previous experience with his job only adding to his frustration, there was something about Perdaman that gave him strength and kept him motivated. He still had to work hard, but the community and leadership he experienced at Perdaman allowed him to build himself up to a position that he is very proud of.
Amit works every day towards achieving his professional goals and working his way up the ladder at Perdaman. His promotion was proof that he can achieve bigger and better things with enough hard work, and Amit is looking forward to continuing to grow with the company. Perdaman has a lot to offer, and Amit wants to be able to keep improving himself in order to give back to the company and create a better tomorrow for his family.
Amit welcomes feedback and constructive criticism from his leaders and peers, but when it comes to social norms and the vague, ever-changing criteria of society, he doesn't pay much attention to what people think of him. He is focused on his career, and he is proud of the person he is, so whether or not people are making judgements or have negative feelings towards him does not faze him. His kindness, generosity and friendly manner are not driven by the need to be liked; they are simply a reflection of the satisfaction and pride Amit feels in his position and his community. Working at Perdaman just makes him happy.
Upon reflection, he remarked, his younger self would probably think that he has become rather boring. He still loves that younger version of himself—the version that had a more exciting kind of fun and would go bang on a friend's door at 12 AM to sing happy birthday and drag them out for a night of revelry—but there are things he has grown to appreciate now that are more satisfying than any late night or party.
'I invested my time and money into accounting, and for an international student it's quite a lot of money and time, but I was happy working in the bar. I never would have thought of going into an industry like this, but now I'm thinking, yeah, I should have a professional career… Now I am focused, but a bit boring. I still love the current version of me, though, because I have a baby, a beautiful baby, my lovely parents, my beautiful wife, great colleagues, my manager, the Chairman, they're just so fun to work with, so I have nothing to complain about. I'm doing pretty good.'
Amit has not set any particular long-term goals for his life at this point, preferring to enjoy what he has in the present. He visits his family in India every two years (pandemics not withstanding), spends time with his wife and daughter, creating memories and working hard to improve himself, personally and professionally.
Joining Perdaman has had an enormous impact on Amit's life, far greater than he ever could have imagined. He went from coming in with zero confidence, expecting nothing from his interview beyond some fresh content for his Instagram, to being a competent and capable corporate professional who loves his job, his family and his life. Perdaman empowered Amit to take on new challenges, find new strengths within himself, and discover just how much he had to give—essentially, Perdaman helped him grow up. It has not been the journey he was expecting, but there is no doubt in Amit's mind that he is on the right path, and he is excited to see where it will lead him.
'I admit, I was frustrated—I was convinced, based on my past experiences in other jobs, that I would have to do the most work to get the job done. When you've invested most your time into becoming an accountant, but you're so frustrated that you don't want to be an accountant anymore, you know something is not right.
And then I decided to take up the opportunity and come here to Perdaman, with the same job, and it has had a huge impact on my life and career. To be here doing the job that I thought I couldn't do ever again, and to actually be really happy and really proud, it's just incredible. I had lost my confidence in myself, and I didn't know whether I'd be able to pull it off or not, but my manager, and of course the Chairman, they always just kept motivating me, which has made a massive difference. They have contributed so much to all the positive changes that have happened in my life since I started, and I'd like to thank them from the bottom of my heart.'
---
Amit's story continues, interwoven with the story of Perdaman as a whole. Each individual voice in the story that makes up Perdaman's diverse and ever-changing identity has wisdom and insights to share, and there will be many more individuals after Amit appearing in this series. We are all a part of each other's story now, working together to make our next chapter a better tomorrow.

Written by Dominic Depiazzi. Series created by Dominic Depiazzi and Vikas Rambal. Copyright PERDAMAN 2021.