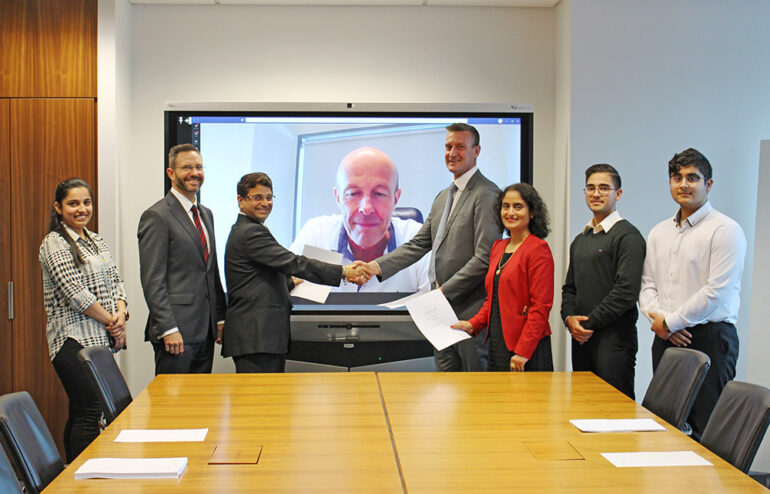 ---
$4.5BN KARRATHA UREA PROJECT AGREES EPC TERMS
Perdaman Industries (Chemical & Fertilisers) has signed a binding Heads of Agreement for the Engineering, Procurement and Construction (EPC) work for its Urea Project in Karratha with 50/50 joint venture between Clough of Western Australia and Saipem of Italy.
Perdaman will invest a total of $4.5 billion to develop the plant that will transform natural gas into urea, a widely used form of fertiliser for production of food for the future generation. Perdaman has secured natural gas for 20 years from Woodside under the Gas Supply Agreement signed in November 2018.
The Project has been strongly supported by The Western Australian Government, by giving it a state significant project status.
Perdaman acknowledges and pays its respect to past and present elders and young's and the traditional custodians of the land. Perdaman believes that the Urea Project will provide a major boost to the Western Australian economy by generating on average around 2,000 jobs during the three-year construction phase. On completion, the plant will provide 200 permanent jobs in Karratha. Perdaman's Chairman Vikas Rambal says the milestone is significant and is a strong example of diversification of the economy.
"The company is pleased to be part of job creation for the state and is privileged to be the part of the manufacturing initiative project in WA again," said Mr Rambal.
The Perdaman facility will produce more than two million tons of urea per annum, estimated to generate significant export earnings for Western Australia as well as providing security of supply for Australian farmers.
"The coronavirus pandemic has taught us an important lesson about the food security for our
society and our over-reliance on imports," said Mr Rambal.
The Clough and Saipem joint venture will act as the lead contractor for the EPC work that includes a water treatment plant, a power plant (100MW), as well as urea storage, loading and unloading facilities. A closed conveyer will transport the urea 7km direct to Pilbara Ports Authority for shipping to local and offshore markets, with 50 to 100 shiploads expected per year.
Peter Bennett, Clough CEO and Managing Director said it's a significant project for Western Australia.
"We are very excited to be part of this milestone project," said Mr Bennett. "During the construction phase, this world class facility will create around 2,000 jobs and will be an important development for the Australian resources industry, significantly reducing the nation's reliance on fertiliser imports.
"We are delighted to partner with Saipem, renowned for its work in urea projects internationally. That combined with Clough's Australian engineering and construction expertise, creates a capability that is unparalleled." Alessandro Tattini, APAC Area Manager for Saipem Onshore commented the project is part of the Company's in-country strategy.
"Saipem has a strategic interest in Australia as well as strong international expertise in urea and ammonia," said Mr Tattini.
"Partnering with a company lie Clough, that has been delivering projects for more than a century is very important to us.
"This joint venture looks forward to bringing one of the largest urea projects in the world into production for Perdaman."
MEDIA CONTACT
Rashpal Kaur
T: +61 8 9429 5111
E: rashpal.kaur@perdaman.com.au
About
Perdaman is a multinational group based in Western Australia with a long-standing track record in involvement within a diverse range of markets. From investments in fertiliser production to help our farmers produce crops, to the ownership and management of shopping centres that make wonderful experiences and community hubs; from the production and distribution of pharmaceuticals to provide better healthcare, to migration services and advanced energy solutions, we are an innovative company that actively seeks out new opportunities.
These are just some of the commercial aspects of Perdaman. Integral to this is our corporate culture of creating leaders and growing together as a team, and all our operations are backed by extensive financial services to ensure strength and growth.
We are also highly involved in the community and actively give back – from supporting local sporting teams to contributing towards better education. We do what we do with passion, and we do what we do with a sincere desire to create a better tomorrow.